Donations
St. Leonard Volunteer
Fire & Rescue proudly remains 100% Volunteer. Your donation will help us provide the best fire, rescue, and EMS services possible.
2022 Fire Rescue and EMS
Runs
Jan
258
Feb
165
Mar
205
Apr
193
May
228
Jun
240
Jul
213
Aug
235
Sep
212
Oct
233
Nov
181
Dec
185
Total
2548
Total Fire/EMS
2021
2400
2020
2963
2019
2885
2018
2507
2017
2137
Working Fires
2022
2021
2020
2019
5
8
5
7
Web Counters
Website Visitors
Since
February 2, 2015

Visitors Today
Feb 07, 2023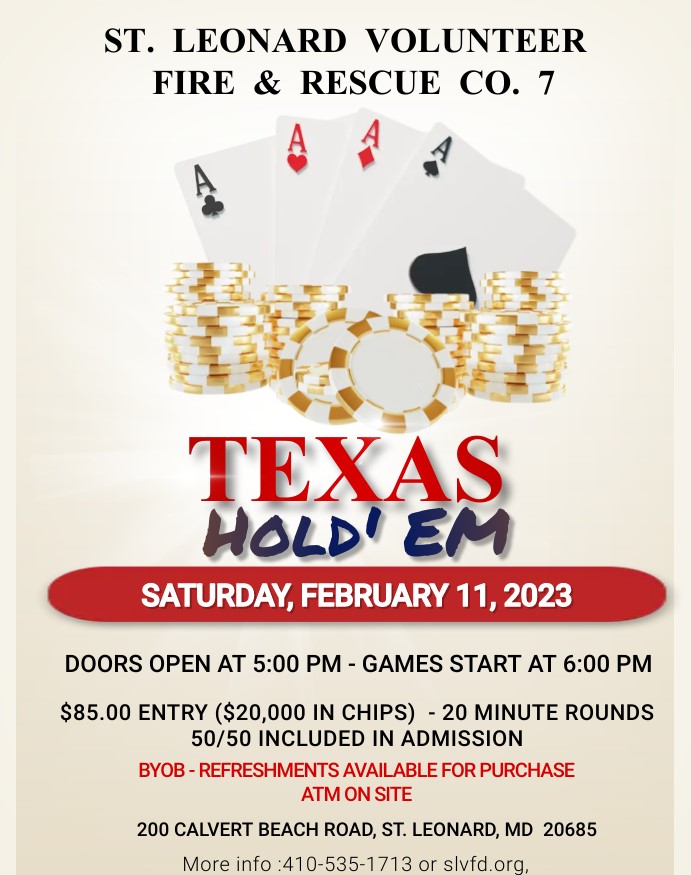 The St. Leonard Volunteer Fire Department is proud to announce that the Fire Department will receive the ISO (Insurance Services Office) Class 4 public protection classification, effective March 1st, 2020.

ISO is a third party independent agency that evaluates the fire department, water department and communications systems. It rates the results on a national scale from one to ten (one being the best and 10 being the highest). According to ISO, its Public Protection Classification Program (PPC) plays an important role in the underwriting process with insurance companies. Most U.S. insurers report that the PPC information is used in their decision-making process when deciding what business to cover, what coverage's to offer or prices to charge for personal or commercial property insurance.

Engine 71 For Sale

Chief Brent Lankford, February 03

2001 Pierce Dash Pumper

Engine: Series 60, 505HP
Transmission: Allison HD 4060P (5 Forward Gears and 1 Reverse Gear)
Pump: Waterous Single Stage 1500 GPM – Pump Test Passed in 2022
Water Tank: 750 Gallons
Fuel Tank: 60 Gallons Diesel
DOT Inspection passed in 2022

Wheelbase: 192" (16')
Length: 366" (30'6")
Width: 96" (8')

Unit Mileage: 83,774 miles
Engine Hours: 345.8 hours (hours off due ... (Full Story & Photos)

Broomes Island Road House Fire

SLVFD, January 22

At 1411 hours today the St. Leonard Volunteers were dispatched to the 6400 block of Broomes Island Road for the reported house fire. Engine 72, Tanker 7, Squad 7, Ambulance 78, Rehab 7 along with Chief 7, Chief 7A and Chief 7B all responded. Chief 7B (Schooley) arrived on location to find a single story house with heavy smoke throughout and fire showing from the basement. Company 7 along with multiple ... (Full Story & Photos)

Engine 71 In Production

Active Member Thomas Buckmaster, January 20

08/26/2022 - This week, Engine 71 began production with the cab in fabrication. Next week, expect cab to be
scheduled for paint process. Soon, expect body to begin fabrication and chassis to be scheduled for
frame-up.

09/02/2022 - This week, Engine 71's cab moved through the paint process.

09/09/2022 - This week, Engine 71's cab moved through the paint process while the chassis was in frame-up. ... (Full Story & Photos)

Garage Fire

Chief Brent Lankford, December 19

At 0940 hours the St. Leonard Volunteers were dispatched for a reported garage fire in the St. Leonard Shores subdivision. Chief 7, Engine 72, Squad 7, Tanker 7 and Ambulance 77 responded. Chief 7 arrived to find a 3 bay detached garage with light smoke showing from the rear of the structure and established the "St. Leonard Shores Command." Engine 72 arrived deployed a 1.5" crosslay, located and ... (Full Story & Photos)

New Zodiac Delivered

Assistant Chief Marc Richman, December 19

St. Leonard Volunteers have taken delivery of the new Zodiac 7. Zodiac 7 is a 21ft Zodiac Milpro SRR650 with a Yamaha 150HP engine, Garmin VHF Marine Radio and Radar/Display package.

Zodiac 7 will be used primarily to support water rescues and operations on the Patuxent River. It's shallow draft (14 inches) will allow us to navigate most areas along the river.

Members are outfitting the vessel ... (Full Story & Photos)

Your feedback is important to us! Feel free to sign the guestbook.
Website Designed and Hosted By:
Content Proudly Maintained By:
Contact Info:

www.FirehouseSolutions.com
Saint Leonard Volunteer
Fire Department and Rescue Squad
200 Calvert Beach Road
Saint Leonard, MD 20685
Emergency Dial 911
Non-Emergency: 410-586-1713
Station Fax: 410-586-3200
E-mail: info@slvfd.org
| | |
| --- | --- |
| | Copyright © 2023 Firehouse Solutions (A Service of Technology Reflections, Inc.) |