Donations
St. Leonard Volunteer
Fire & Rescue proudly remains 100% Volunteer. Your donation will help us provide the best fire, rescue, and EMS services possible.
2023 Fire Rescue and EMS
Runs
Jan
248
Feb
186
Mar
Apr
May
Jun
Jul
Aug
Sep
Oct
Nov
Dec
Total
434
Total Fire/EMS
2022
2548
2021
2400
2020
2963
2019
2885
2018
2507
2017
2137
Working Fires (First Due)
2023
2022
2021
2020
1
5
8
5
Auto Extrications (First Due)
2023
2022
1
2
Web Counters
Website Visitors
Since
February 2, 2015

Visitors Today
Mar 29, 2023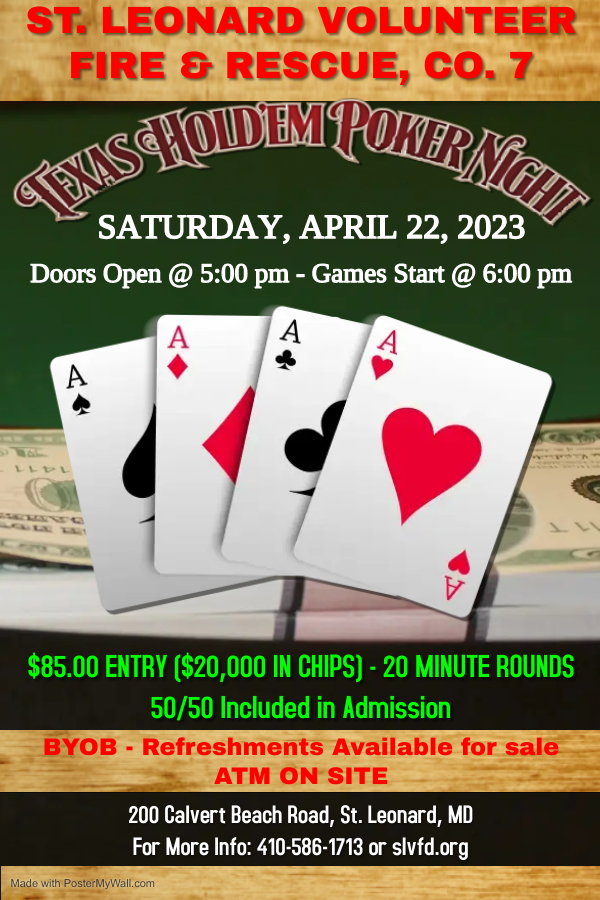 The St. Leonard Volunteer Fire Department is proud to announce that the Fire Department will receive the ISO (Insurance Services Office) Class 4 public protection classification, effective March 1st, 2020.

ISO is a third party independent agency that evaluates the fire department, water department and communications systems. It rates the results on a national scale from one to ten (one being the best and 10 being the highest). According to ISO, its Public Protection Classification Program (PPC) plays an important role in the underwriting process with insurance companies. Most U.S. insurers report that the PPC information is used in their decision-making process when deciding what business to cover, what coverage's to offer or prices to charge for personal or commercial property insurance.

Vehicle Into the Woods

Assistant Chief Marc Richman, March 17

At approximately 2:35 the afternoon of 17 March, St. Leonard and surrounding stations we alerted for the serious accident in the area of Rt. 4 and Flag Ponds Pkwy. Engine 72(Sgt Schooley), A77, Command 7 (Lt. Eckstein) and Ambulance 79 (filling in at Solomons) responded. Units arrived to find a SUV down the embankment with a single patient trapped. Crews from E72 and Squad 3 competed a sidewall ... (Full Story & Photos)

Parkers Creek Car Fire

Active Member Anthony Curtis, March 03

On Thursday March 2nd at 1646, Company 7 was alerted for a vehicle fire threatening a residence. Chief 7, Chief 7 B, E72, TN7, and A77 quickly responded and arrived to the scene to find a van in the driveway with fire coming from the hood of the vehicle. Crews quickly extinguished the fire and remained on scene to make sure there was no extension to the house before returning to service.... (Full Story & Photos)


2 Compete in Skills USA Regional Event, St. Leonard Brings Home GOLD.

Chief Brent Lankford, February 11

On February 11, 2023 Firefighter Riley Kulikowski and EMT Student Amira Akli participated in the regional Skill USA competition held in St. Mary's County. Firefighter Kulikowski received the GOLD medal for his participation in the competition and will be participating in the State of Maryland Skills USA competition in the coming months. The officers and membership are proud of both of these highly ... (Full Story & Photos)


Early Morning Auto Accident

Assistant Chief Marc Richman, February 04

On Saturday Feb 4 at approximately 03:40 AM, volunteers from St. Leonard were dispatched to an auto accident at Calvert Cliffs Parkway and Rt. 4. Units were advised enroute that a subject was laying in the roadway. Upon arrival, units found a single vehicle accident with the passenger ejected and the driver self-extricated. One patient was flown to a local trauma center and the other was transported ... (Full Story & Photos)

Broomes Island Road House Fire

SLVFD, January 22

At 1411 hours today the St. Leonard Volunteers were dispatched to the 6400 block of Broomes Island Road for the reported house fire. Engine 72, Tanker 7, Squad 7, Ambulance 78, Rehab 7 along with Chief 7, Chief 7A and Chief 7B all responded. Chief 7B (Schooley) arrived on location to find a single story house with heavy smoke throughout and fire showing from the basement. Company 7 along with multiple ... (Full Story & Photos)

Your feedback is important to us! Feel free to sign the guestbook.
Website Designed and Hosted By:
Content Proudly Maintained By:
Contact Info:

www.FirehouseSolutions.com
Saint Leonard Volunteer
Fire Department and Rescue Squad
200 Calvert Beach Road
Saint Leonard, MD 20685
Emergency Dial 911
Non-Emergency: 410-586-1713
Station Fax: 410-586-3200
E-mail: info@slvfd.org
| | |
| --- | --- |
| | Copyright © 2023 Firehouse Solutions (A Service of Technology Reflections, Inc.) |