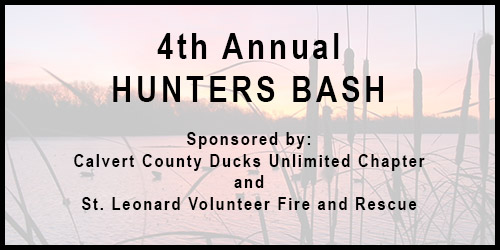 Saturday, August 25, 2018
Doors open at 11:30
12:00 pm - 4:30 pm
St. Leonard Volunteer Fire Department
200 Calvert Beach Road, St. Leonard, MD 20685
27 main event prizes including 20 firearms, $4,500 in cash and other prizes.
Winners drawn every 10 minutes.
An additional 20+ guns raffled and drawing in-house on day of event.
Other games and prizes on the day of the event for attendees only.
TICKETS
*** Tickets may be purchased AT THE DOOR on the day of the event***
Blue Tickets ordered after August 13 will be available for pick up at Will Call
$50/Admission Ticket (Blue Ticket)
Includes entry on day of event, food, beverage, and event prizes.
---
$25/General Ticket (Red Ticket)
Donation, includes chances to win ticket prizes ONLY (listed below)
NO ADMISSION
TICKETS
Pit Beef - Pit Turkey - Fried Chicken - Baked Beans - Cole Slaw
Potato Salad - Canned Beer - Wine Bar (nominal fee) - and more!
Must be 18 years old to participate and purchase raffle tickets.
Need not be present to win (Except Early Birds).
Gun winners must pass on-site Federal Insta-Check prior to receiving gun.
Prizes may vary due to availability (NO Cash Substitutions).
Any prize not claimed within 30 days becomes property of CC Ducks Unlimited